Speaker Bio  |  Click to return to meeting home page
Moses Thairu Kairo PhD. DIC
Professor and Dean
School of Agricultural and Natural Sciences
University of Maryland Eastern Shore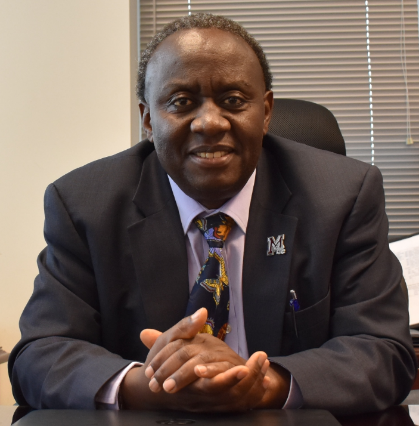 Moses Kairo was appointed professor and dean of the School of Agricultural and Natural Sciences at the University of Maryland Eastern Shore (UMES) in August 2012. As dean he is responsible for administering academic programs as well as the research and extension programs in the school. Prior to joining UMES, Moses spent nearly seven years at Florida A&M University as a professor of entomology, and director of the Center for Excellence in Biological Control, a cooperative initiative between FAMU, USDA-Agricultural Research Service, and USDA-Animal and Plant Health Inspection Service. Between 2008 and 2012, Moses also served as the associate research director for their 1890 programs.
Moses started his career as an entomologist in 1985 with the Kenya Agricultural Research Institute before joining what is now known as CABI, an intergovernmental development organization with headquarters in the United Kingdom in 1991. At CABI, Moses worked in various capacities starting as an entomologist and culminating with leadership of the organizations activities in the Caribbean and Latin America region. In 2003, Moses was also appointed a courtesy associate professor in the Department of Entomology and Nematology at the University of Florida. His research interests have focused on biological control, invasive species management and crop protection. Over the years he has carried out work in many countries in Africa, Europe, the Middle East, Latin America, and the Caribbean. Over the years Dr. Kairo has also undertaken consultancy work with several international organizations including the United Nations, Food and Agriculture Organization. He has also secured many grants and published his work widely. He has also been involved as an organizer and presenter in many national and international scientific conferences. Moses continues to serve the land grant community through various bodies or committees of the Association of Public and Land Grant Universities.
Moses received his Doctor of Philosophy degree in entomology from the University of London, a Master of Science degree in applied entomology from Imperial College, London and a bachelors degree in zoology from the University of Nairobi, Kenya.